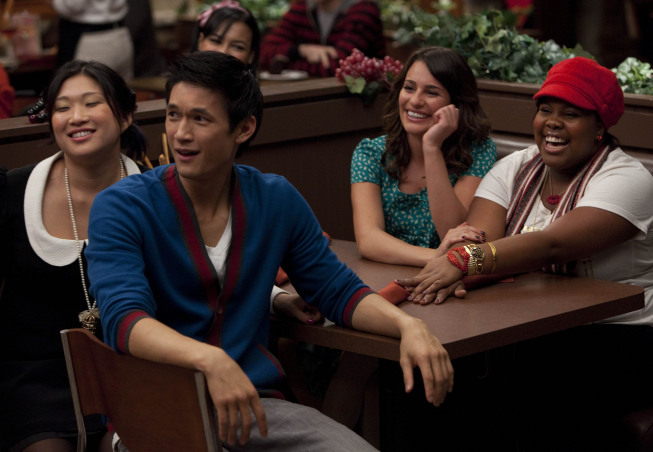 After waiting so long for Glee to return from its winter break, us Gleeks are being rewarded for our patience with TWO brand new episodes this week. Which in this case is the 12th episode of the season. The football season ended in Sunday's post Super Bowl episode, and now McKinley High students are looking for love in tonight's all-new Valentine's Day themed episode, "Silly Love Songs."
A funny, touching, entertaining Glee episode that didn't feature a single line from Sue Sylvester?!? What has the world come to????!!!!???? But that's exactly what transpired on "Silly Love Songs," as the show stopped feeling like a Public Service Announcement for a week and actually focused on well-paced, well-written relationship developments among its core characters.
Mr. Schuester's assignment for the week is for each member of New Directions to pick a partner and serenade him/her with a great love song. An unexpected pairing causes some major drama considering what transpired towards the end of last episode. Mr. Schue's assignment also allows supercute couples like Tina and Mike and Artie and Brittany to shine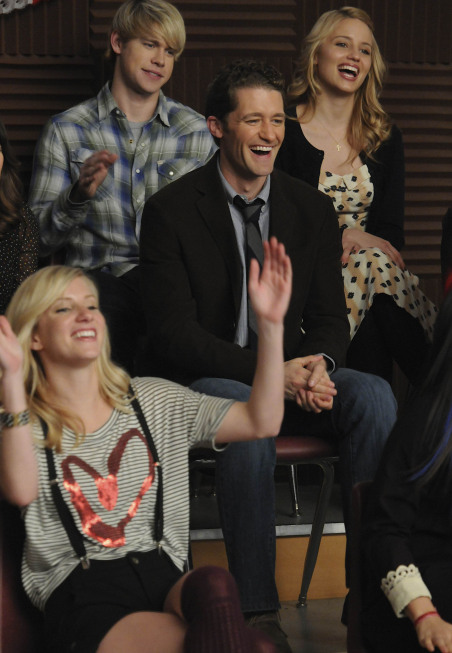 Meanwhile Finn, fresh off his football victory, is back to being top dog at McKinley, and all the attention from the ladies is going to his head (Can you guess which smitten girl nicknames him Finnybear?). He decides to set up a kissing booth so he can kiss every girl in school (well, actually, there might be some ulterior motives at play here). He and Quinn also talk about the kiss they shared at the end of Sunday's episode…was it just a one time mistake? And where do Rachel and Sam fit into things?
Kurt and Blaine over at Dalton Academy are also on in the spotlight in "Silly Love Songs." It turns out that Valentine's Day is Blaine's favorite holiday and he needs a favor from The Warblers in order to celebrate. Kurt supports Blaine when he goes to The Warbler's council, and the result is not one, but two performances from our favorite all male glee club. How great is that!!!!!!!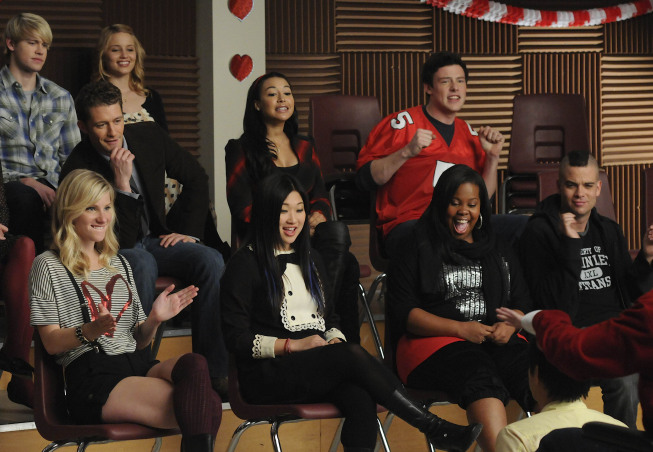 It was refreshing to get to know Blaine a lot better, especially considering Glee addressed how he's seemed a bit too perfect this whole time. Turns out, he's as confused as most high school students. He just hides it behind his confident singing ability.
It's all about the characters coming first. Every performance this week tied perfectly into relationship drama that has been playing out all season (Rachel pining/getting over Finn on "Firework," Kurt standing strong in the face of loneliness on "Silly Love Songs," Puck making it clear how much he likes "Fat Bottomed Girls." Okay, almost every performance.)
I never felt preached to at any point, despite the fact that Kurt and Rachel both passed along an important message about not relying on someone else for your self-worth. But the message was organic, it flowed from their recent experiences, not from a contrived musical number or sudden development.
An overall great episode teamed with some reflective music of various individuals' struggles and triumphs, which ought to be the goal every week. I'll say it again: characters need to come first.
Viola!!!!that's it for now, we have the next episode ironically titled "Comeback" for 15th February which is the next day after valentine's day.