The title aptly sums up my views about this weeks Glee episode SEXY. Yup, the "Sexy" substitute a.k.a. Gwyneth Paltrow is back on Glee and this time she is not subbing for spanish class or english class or taking over glee club but subbing for sex-ed class. Ya, Glee is feeling preachy again which also involves some dirty dancing......and it seems like also taking a holiday.
Although this episode also had a lot of pros. Namely,

The songs were great, the story moved along, relationships developed, and the series finally gave voice to the lesbian feelings of a certain two glee clubbers. Other than some highly inappropriate things going on that would never be allowed at a real high school,
At various times, this episode of Glee was fun, profound, humorous, romantic and simply random. Shall we go over some of the finer points of the episode.
Really wish every day were a Holly Holiday. Gwyneth Paltrow is perfect in this role, bringing an energy and snark to lines about wet hugs and sex tapes with JD Salinger, while sexing up performances such as "Do You Wanna Touch Me." Just great times all around any time she stops by.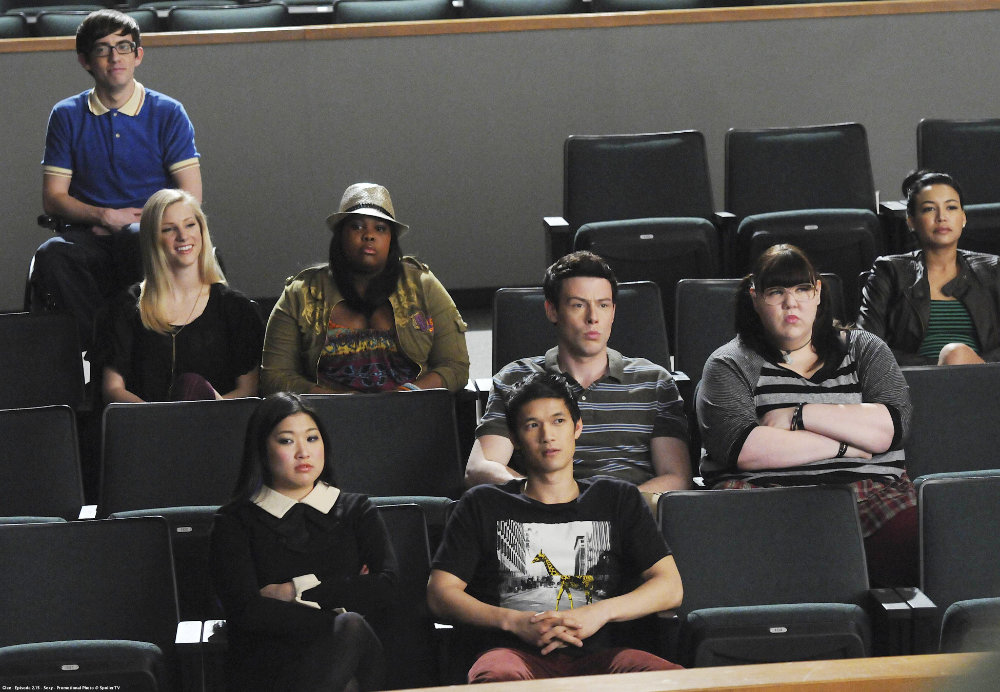 Paltrow's first appearance last fall was a resounding triumph, so of course Glee wanted her back. Last night, Holly discovers, while teaching health class, that the students at McKinley are very ill-informed about physical pleasure and its consequences, especially members of New Directions. This is best evidenced by airhead Brittany (Heather Morris) believing she is pregnant because a stork is building a nest outside of her window, and Finn (Cory Monteith) and Mercedes (Amber Riley) worrying they can get HIV from salad after Holly shows them how to put a condom on a cucumber. Those aren't exactly realistic happenings, but I sure laughed heartily when Brittany shared why she thought she was with child after panicking her boyfriend, Artie (Kevin McHale).
Oopsie! i think i forgot to add the finer points of the element of Frustration. It's not so much that I hate when Glee preaches, it's that it does so in an unrealistic manner. Emma and Carl have never had sex?!? Brittany thinks babies come from a stork?!? These quirks are funny when used in a one-liner, but they become irritating when used as actual plot points.
Definitely loved Burt's speech to his son and, while I take issue with Santana's revelation of love to Brittany (more on that below), I must applaud Naya Rivera's performance during "Landslide" and also during her big speech.
In the romantic view point - Will doing the tango with Holly? Hot. Holly finally admitting that she should open herself up to a relationship that lasts more than 36 hours? Vulnerable and sweet.
Holly is likely to return again, as she enters into a relationship with Will before the closing credits. The chemistry between the two is palpable, especially in their duet of "Kiss", though Holly's hesitation for dating the Teach is also warranted. She tends to go for less serious pairings, while his dating experience is limited to his high school girlfriend and a guidance counselor who won't even touch her husband, which we'll get to in a minute. I guess Holly just has to fall for the Schuester charm in the end, though. I don't believe it will last very long, the least of the reasons being Paltrow's continued availability (or lack thereof), but it's nice that Will will get a chance to be with someone so cool before he is roped back into the inevitable drama to come.

Santana came fully out of the closet, Carl and Emma broke up and Quinn made her intentions clear to Finn (as well as her return to total bitch-dom). But Glee often feels like a hodgepodge of events and scenes thrown together around a weekly theme.
One second, Santana can't open up, the next second she's breaking down by singing a few lyrics. We haven't seen Carl in months, and then, just as suddenly as he appears behind the drums, he's gone again. Blaine and Kurt run into Sue in the coffee shop and are instantly convinced they need to sex up their routine, complete with bubbles that resemble... let's just say... something very personal to guys? It all just felt random and under-developed.
So, after all this we have the regionals episode next week, which is coincidently title "Original Song"- yup the two original songs by glee that came out with the last glee album features on the episode. So stay tuned.